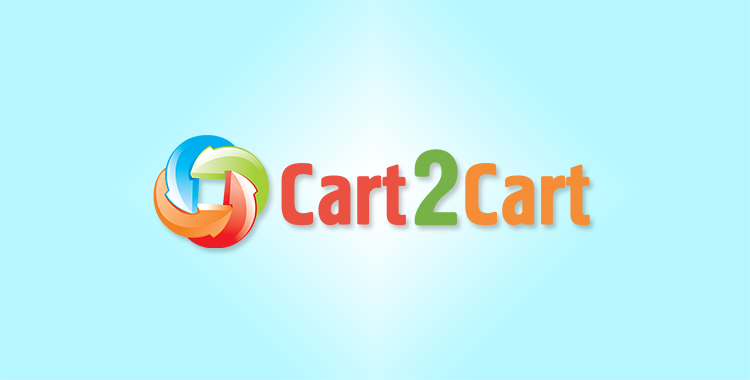 CubeCart is a feature-rich online shopping cart for small and middle sized web stores. However, it lacks some top-end functionality that can seriously improve your business. For instance, you can't set up several shops and run them via one admin panel, there is no inbuilt CMS capabilities, etc. For these reason, many store owners decide to change their e-Commerce platform and migrate to Magento - current industry leader and the most popular solution worldwide.
In order to make CubeCart to Magento data transfer simple and effective check this tutorial video or see step by step guide below. So, from now on only a few simple steps separate you from your dream store.
Stage 1. Create an Account
No complicated forms or dozens of fields to fill in just enter your name, e-mail and password. To make everything even more easier you can start with Cart2Cart using your existing Google or Facebook account.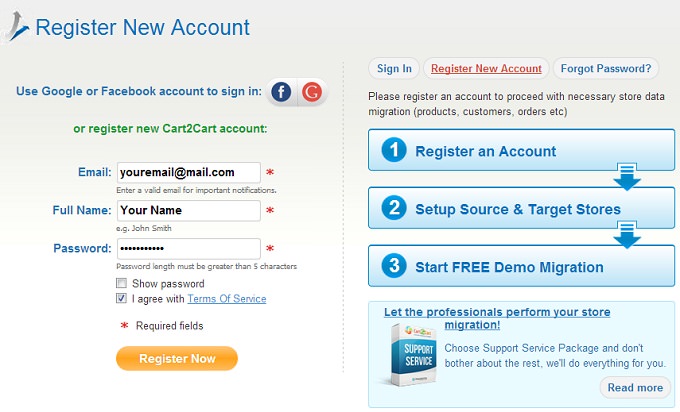 Stage 2. Enter Your Source Cart Details
Choose CubeCart as your platform type and provide store link. Then you will have to download Connection Bridge that is the so called access gateway to your shop data. It will take only a few moments to unzip the file and copy it to your store folder on FTP. For more information about the bridge and how to use it click here. After that click Proceed to Next Step button.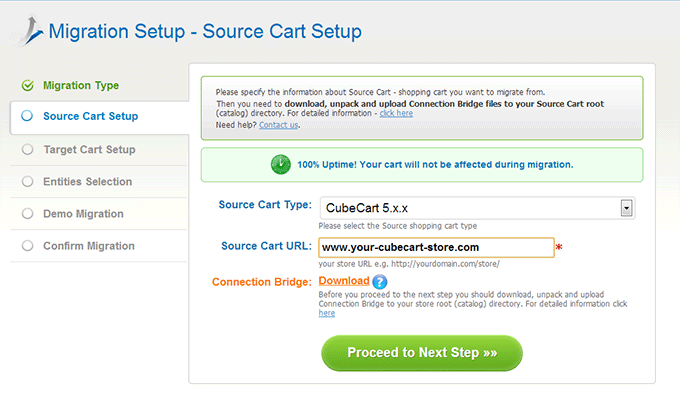 Stage 3. Enter Your Target Cart Details
The procedure with your target store will be the same:
select Magento shopping cart from a drop down menu;
enter shop URL;
download the Connection Bridge and follow the next step.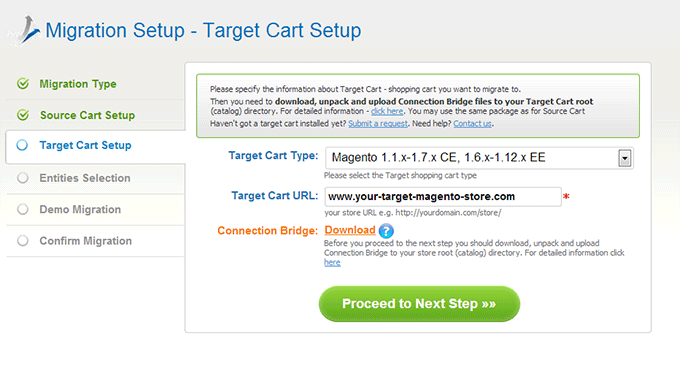 Stage 4. Choose Entities You Want to Migrate
At this step you will be able to select store entities for migration: products, customers, orders, etc. It will be possible to choose additional migration options that can extend migration opportunities. However, some of them are provided for extra fee, so make sure you have enough funds on your account.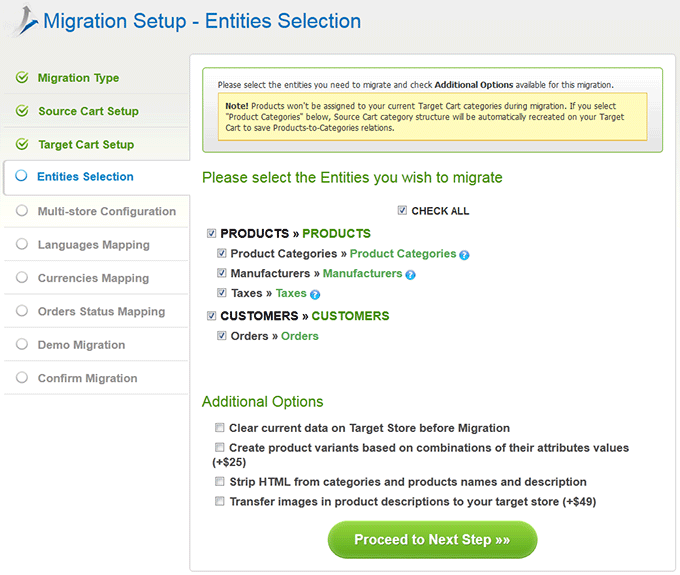 Stage 5. Handle Multi-Stores
Since CubeCart doesn't support multi-store feature you will be only able to choose target Magento store view that all your entities will be moved to.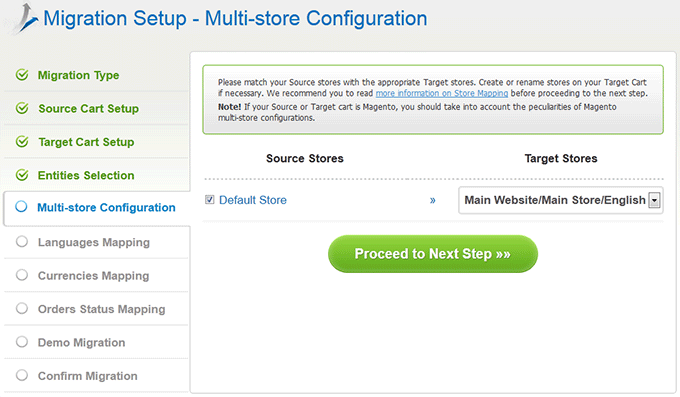 Stage 6. Map Currencies
If you use several currencies at your source CubeCart store you will be able to match them with the corresponding ones at your target Magento shop.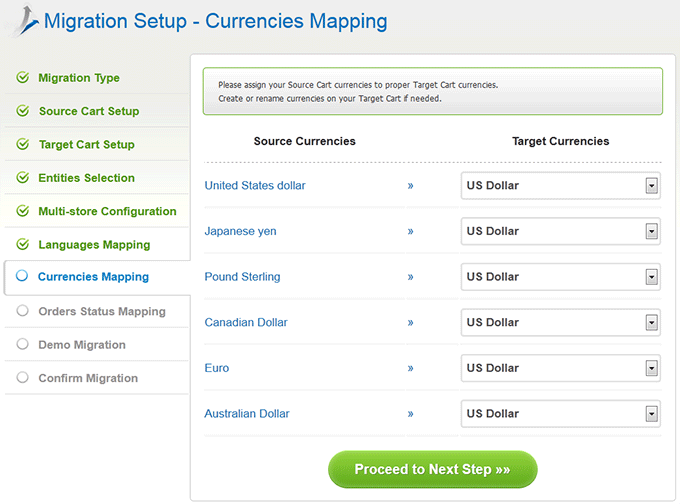 Stage 7. Match Your Orders Statuses
If you've selected to move orders at Stage 4 than assign your order statuses. You can create or rename order statuses from cart's admin panel.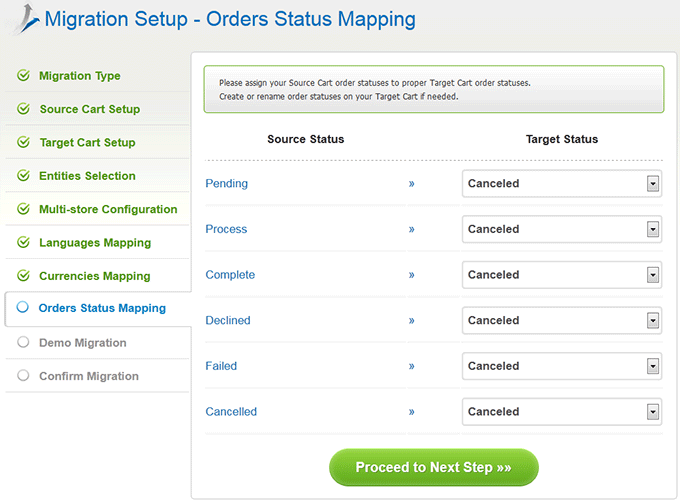 Stage 8. Start Demo Migration
Before paying a single cent you can try how Cart2Cart works and perform Demo Migration. It will move a limited amount of data to your Magento store so you will see how it works. You can also skip this step it's for you to choose. For more information about free Demo Migration check this article.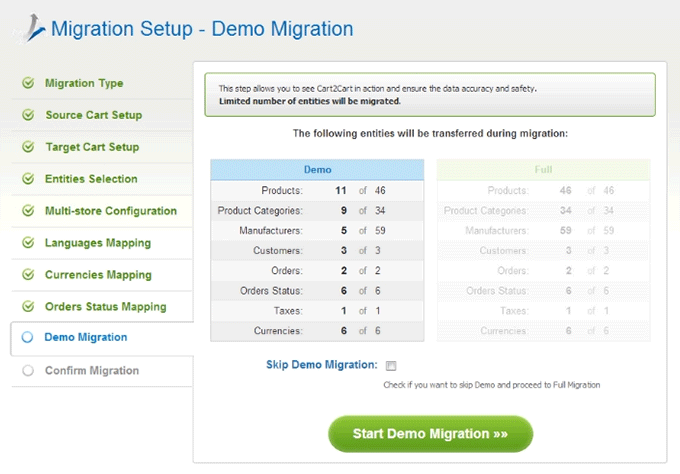 Stage 9. Perform Full Magento Migration
At this step only one button separates you from switching store to Magento. Double check the entities you are going to migrate and click Start Full Migration Button. Now you can close your browser window and proceed with doing something else. Right after data transfer is finished you'll receive an e-mail notification to check the results.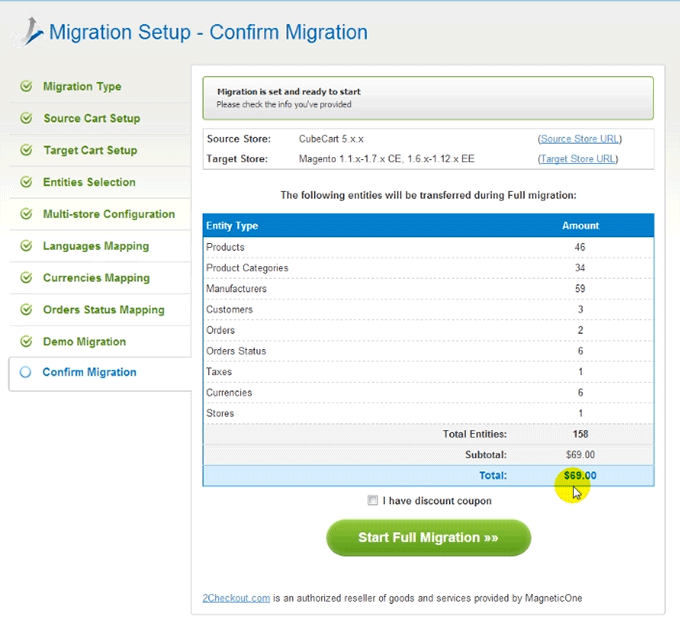 Stage 10. Check Migration Results
Now you can go to your store backend and frontend to see your newly established Magento store.
In case if you have any questions don't hesitate and contact Cart2Cart Support Team.