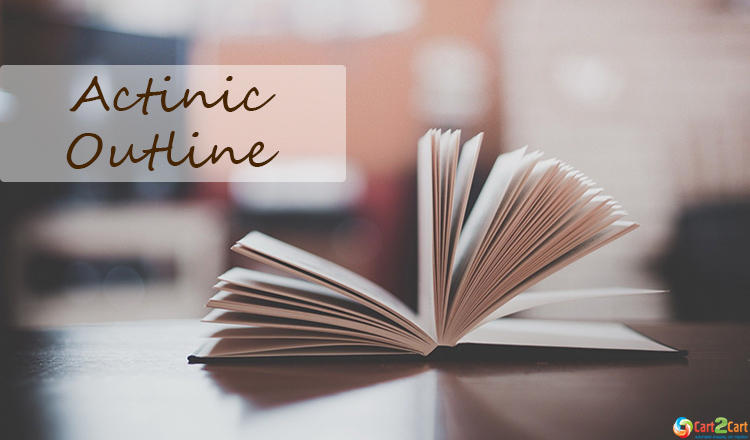 Actinic appears to be one of the leading UK shopping carts having clients among international digital market community. Its presence is not really considerable outside the "home country", but still this solution has the possibilities to offer. Let's find out the features that have made Actinic so popular in UK and those which limit its profile level in global market.
Store Management
Quite straightforward and intuitive interface allows to administrate Actinic e-shop with not much efforts. You can perform some actions using a single console that shows the details of all your clients, products and orders. Moreover, if you are familiar with Magento, osCommerce or any of CMS like WordPress, then store management will not be a problem at all. It is important to notice that Actinic is mostly suitable for small stores.
Design
This e-Commerce solution provides a set of ready-to-use templates that look a bit ordinary. However, there is a great possibility to customize selected theme and make it more sophisticated and stylish. Those merchants who don't have any web designing skills, may use SmartSkins tool. It is an online template editor which allows to change colors, fonts, header, to modify site details sizes and positions. But sometimes SmartSkins can be not really enough to create eye-catching and unique store look. So, professional designers will have a limited access to underlying code requiring knowledge of CSS and HTML. Together with these features, designs are adaptable to all types of devices like laptop, cell phone, tablet, etc.
Marketing
There are many opportunities for promotion of products using Actinic. Starting with bestsellers you can emphasize on new arrivals and most popular products. Making sales rate increase is easier with various promotional tools like limited time discounts, free shipping, gifts promo codes. Furthermore, you can perform e-mail campaigns or use SMS-marketing. Therefore, Actinic offers a powerful options to advertise and make store more attractive to the customers.
SEO Features
Search engine optimization is really important for selling online. Considering Actinic SEO possibilities, they are well-presented and help to analyze the keywords that have driven the traffic and tailor your web store to make it more visible and high-ranked in Google. Thus, Actinic suggests such range of SEO features:
Canonical URLs for product pages;
Title tags for catalogue pages;
HTML tags for all of your webpages;
Sitemaps;
Microdata.
Pricing
Actinic is hosted e-Commerce solution offering its own hosting for your shop. It offers five pricing plans with various costs that depend on provided possibilities. They are Bronze, Chrome, Silver, Gold and Platinum. The cheapest plan is Bronze with 100 products, 10 000 page views and 100 MB storage at £15 per month. Thus, you can choose suitable pricing plan with appropriate settings for reasonable price.
Support
Online and phone support is included in the price of your plan and is available from 9 AM to 5 PM Monday to Friday. It can be said that such access to helping hand of solution appears to be not really matching the modern customer needs and demands. Especially, when you are based in USA or another non-European country, contacting Support. In other cases, Actinic also provides various video tutorials for store management.
Bottom line
Actinic appears to be a perfect solution for small web stores with strong marketing tools, SEO features and ease of use. However, you may feel a bit limited for creating unique design and other possibilities that are really important to keep customers interest. So, we really hope that it will be improved and provided with advanced possibilities to open the doors to global market.
Do you feel that Actinic limits your store growth? Cart2Cart is ready to help you and change it to another powerful well-known solution. Don't put it in the cold storage and migrate from Actinic now.