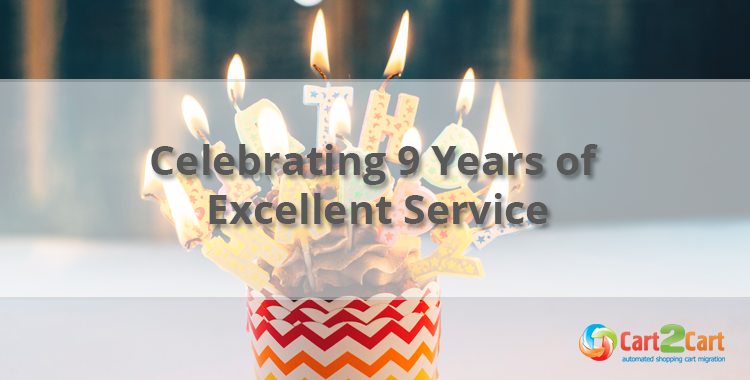 These are lovely news - Cart2Cart turns 9 in June 2018! Do you like birthdays? We hope you do and will eagerly share a couple of lines in this post celebrating the marvelous moment with Cart2Cart Team.
Since day one, Cart2Cart has evolved into the most trusted service for migrating online stores worldwide. Data import is supported to/from 80 (!) shopping carts, and we're constantly working on adding new solutions to this list.
We Wouldn't Make it Without You!
Ask anyone at Cart2Cart what is the key to our success - and we'll tell you without hesitations - our customers make our job meaningful. We're incredibly thankful for each and every one of you. Cart2Cart reviews (and we've received hundreds of them) inspire us and makу every day at work count for all of us. We love what we do and hope you feel this kind of attitude!
Official Migration Partner for Top eCommerce solutions
Since the time we performed the first data import our Tech Team has worked hard to become an expert on automated migration. Now we know even the slightest peculiarity of the solution you migrate to/from and will always let you know what aspect to keep in mind. You can always reach out to our 24/7 Support Team and get the most comprehensive analysis of your particular case. We're more than happy that the phrase - shopping cart migration is associated directly with our service.
The fact we're most proud of is that Cart2Cart is official migration partner for the most reliable and popular eCommerce solutions. Our competence was acknowledged by Shopify, WooCommerce, PrestaShop, OpenCart, and others. There are many more migration partners we're happy to cooperate with and hope our collaboration will be as beneficial as it has been all these years.
We've Managed to Simplify Complicated Stuff
Cart2Cart was started with one goal in mind - to make the process of data export effortless. Today our clients go through the simple 3-step procedure and can get all the entities transferred in a couple of clicks.
100, 000 Migrations was our Milestone this Year
Back in 2009 performing 1,000 migration was a glimmer in our mind's eye. In October 2017 we completed the 100,000th migration and are now looking forward to the 200,000th.
Where is our Cristal Ball?
There are many achievements, both big and small we're proud of, yet the biggest ones are ahead. We don't have a magic ball to tell us our future, yet we're sure Cart2Cart values will propel the company in the right direction.
Once again, we send warm and sincere thank you to our loyal customers, partners, and every member of our strong team.
Looking forward to the big 10th anniversary next year! Happy Birthday, dear Cart2Cart!