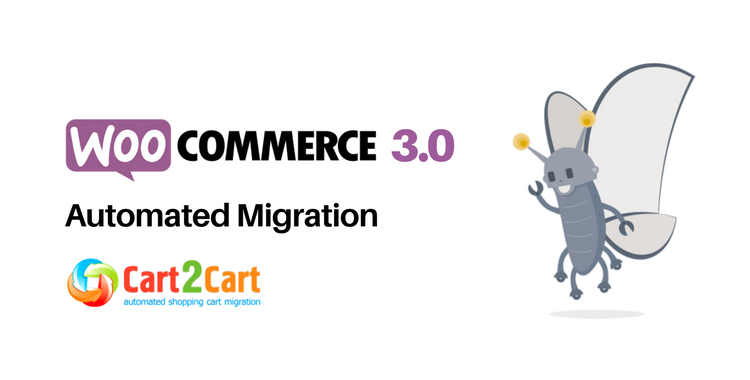 The long awaited third generation of most known WordPress eCommerce plugin was officially released on Tuesday the 4th of April. Welcome WooCommerce 3.0 "Bionic Butterfly" and meet automated migration to WooCommerce 3.0 via Cart2Cart service!
What's new in WooCommerce 3.0?
Migration to WooCommerce 3.0 can be your earth-shattering decision. The new updated WooCommerce version has many new features to boast on. Among them are:
fundamental changes in CRUD functions (an abbreviation for the 4 basic operations you can do to a database: Create, Read, Update, Delete).
performance improvements (totally new taxonomy under the name tag product_visibility, no "order items" column on the orders page).
new logging system (it includes 2 log handlers and is much more extensive)
totally new product gallery (dramatic improvements in touch gestures – swiping to scrolling through the gallery, pinching to zoom, swiping up to close, etc)
How to migrate to WooCommerce 3?
That's the question we're here to answer! Cart2Cart service was getting ready for this astonishing release and we're ready to present you with an ultimate solution for WooCommerce 3 migration via Cart2Cart:
Start FREE Demo migration to WooCommerce 3.0 Now!
What is Cart2Cart?
Cart2Cart is the world's #1 automated shopping cart migration tool with more than 30,000 successful migrations under its belt. The service lets you transfer products, orders, customers, categories, taxes, reviews, CMS pages and other related data to WooCommerce 3.0 from more than 75 platforms. Avoid manual data export / import or unneeded database manipulation and perform an automated transfer to WooCommerce 3 in a few clicks.
Simply provide your current and new store URLs, download and upload the Connection Bridge files to your store's root folders, pick the entities to transfer and launch the migration!All your eCommerce data will be securely transferred from your current store to a new one in no more than a couple of hours.
Also, Cart2Cart will have no influence on the performance of your current online store keeping it online and available for customers 100% of the migration time.

Take your chance to be among the first who will enjoy new functionality of WooCommerce 3.0 and perform the the Free Demo migration to WooCommerce 3.0 right away.