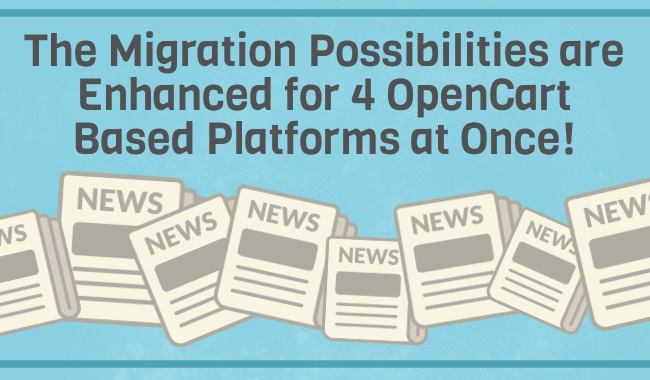 We are glad announce an enlargement of our migration functionality yet again! From now on, all OpenCart based shopping carts - AceShop, MijoShop, JooCart and MiwoShop - possess the same transferring possibilities as OpenCart itself!
OpenCart has been a popular shopping cart for quite a while now and, consequently, became a fruitful soil for a number of other solutions. Thereby, AceShop, MijoShop and JooCart are the results of Joomla and OpenCart integrations, and MiwoShop - the result of WordPress and OpenCart combination.
Till recently, OpenCart based platforms mentioned earlier had a bit more modest set of transferable entities. Henceforth, everything has changed and following entities can be moved to or from all OpenCart based carts:
Products, Product Images, Product Extra Fields, Product Attributes, Product Tags
Categories, Category Images
Customers, Customer Shipping Address, Customer Billing Address, Customer Groups
Orders, Order Statuses, Order Products
Manufacturers, Manufacturer Images, Taxes, Reviews
AceShop, MijoShop, JooCart and MiwoShop have leveled OpenCart off in terms of additional options as well, offering everyone an advanced set of migration opportunities.
Don't miss your chance to try out hitherto unavailable migration possibilities with free free Demo Migration!